Amazon Prime Day blew up in the media last week. NewsWhip data shows the two-day deal fest generated over 4,400 stories.
But what readers might not realize upon first glance, is that these publishers may make money every time a reader clicks a link to a deal and buys those new headphones. I called this back in 2017, when I predicted that more and more newsrooms would invest in building their commerce verticals, and this trend certainly hasn't slowed.
These publishers are creating large commerce departments with one sole focus: research, test, and recommend consumer products to their readers. With each purchase made, the publisher may earn a small percentage of the sale, effectively creating a new revenue stream as the industry looks for alternatives to combat the decline in digital ad revenues.
With Prime Day becoming the retail behemoth it is, publishers are in a prime position to capture reader attention, make recommendations, and earn revenue through affiliate relationships with Amazon.
Publications like CNET are openly saying how important Amazon Prime Day is. The publisher aimed to increase the number of Prime Day deals stories by 30% this year, after ranking third among publishers last year in desktop referral traffic sent to Amazon during Prime Day.
And while CNET and just about every other media outlet was pumping out Prime Day content, readers shared some stories more than others. Knowing which ones could help you earn more attention for your own Prime Day deals next year, not to mention the all-important holiday gift guides. Some of the top publications and stories were surprising.
Amazon Prime Day deals articles with the most shares
Facebook was the place where media earned the most engagement for Prime Day stories, racking up 69,828 total interactions over the first three days last week. There were just 875 interactions on Twitter.
Here are the deal stories, and outlets, that got the most engagement, according to NewsWhip data: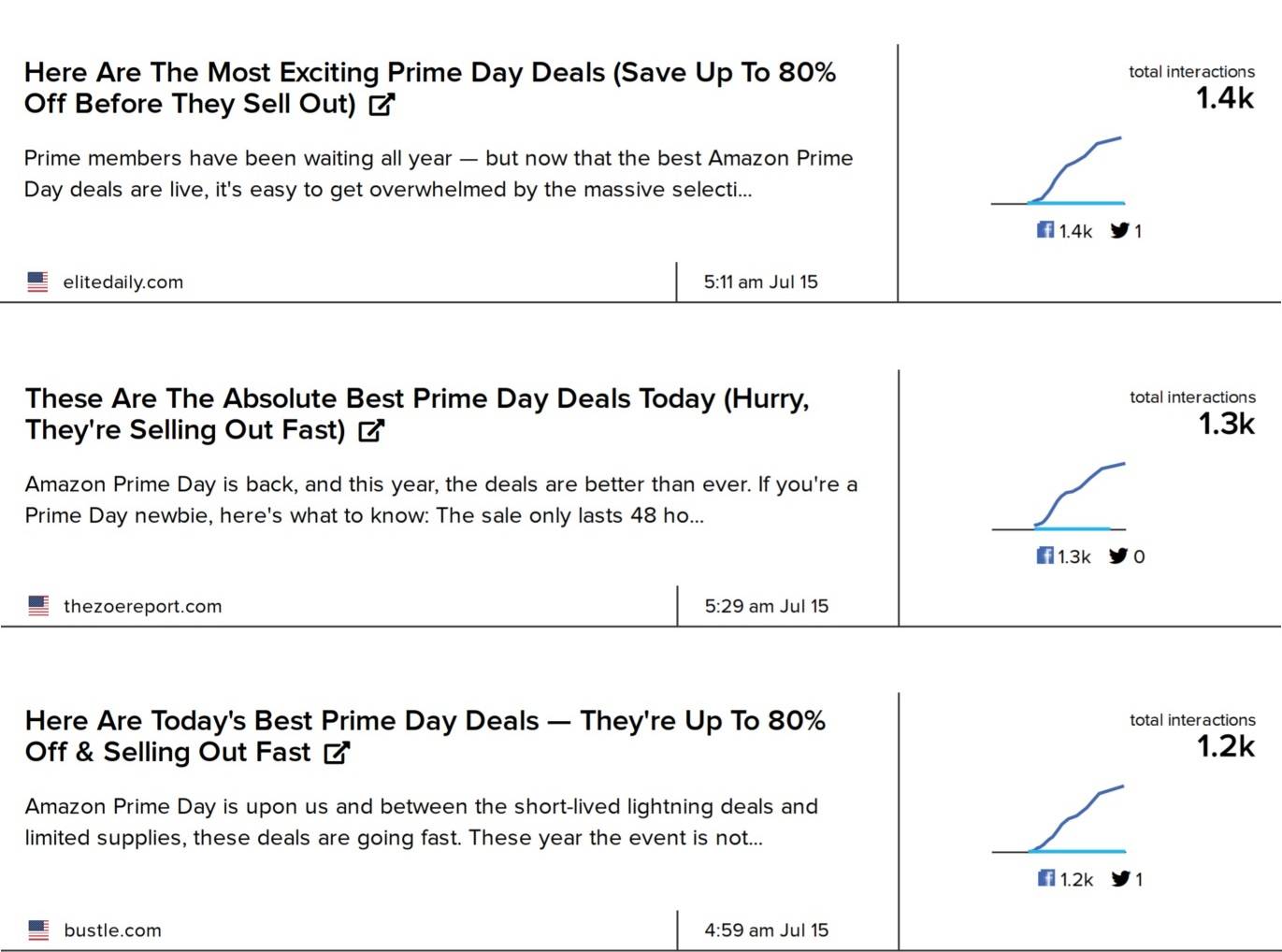 Elite Daily (1,400 interactions), The Zoe Report (1,300 interactions), and Bustle (1,200 interactions) led the pack. All part of Bustle Digital Group, the three millennial-focused lifestyle publications produced the most sharable deals articles targeted at a major demographic for Prime Day.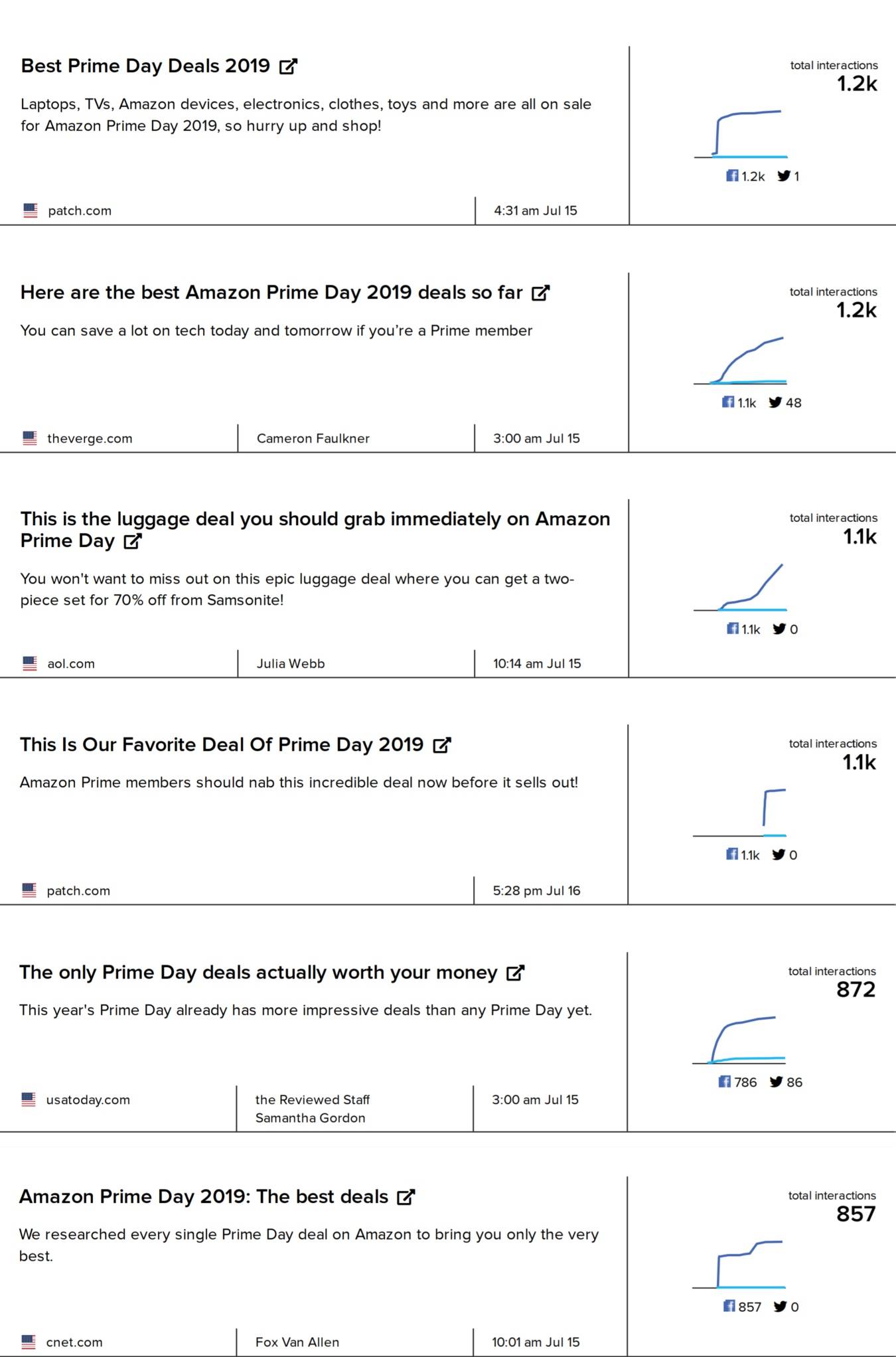 Right behind them was Patch, of all sites, with 1,200 total interactions for its rundown of the best Prime Day deals. The Verge also sat at 1,200 interactions. AOL.com snuck in with 1,100 interactions, as did a second article from Patch.
CNET, despite all the resources devoted to Prime Day stories, had just 857 interactions for its top story. USA Today came out just ahead of CNET, with 872 total interactions.
So why does this matter?
Many times clients come to us seeking media reviews of their products and we have to educate them to the fact that everyone from the New York Times to Wired to Bustle to GQ now manage many of their reviews and roundups through their commerce teams and affiliate relationships with Amazon, or other retailers, creating opportunities to see a cut of the proceeds.
That means you're going to see more and more stories and reviews for "top products on Amazon for XX" or "last minute gifts you can still get with Prime shipping." If you want to capitalize on these opportunities, it's become increasingly important to tie your product to a robust presence on Amazon or one of the leading ecommerce sites.
Media outlets want to recommend products that their readers can easily purchase, and if they can get a small share of the sale, even better. For brands, understanding which media routinely write highly visible commerce stories can have a major impact on the opportunities you can pursue to gain traction on Amazon and other retail channels.
In this case, while you might not expect a media outlet like Patch to publish highly shareable commerce stories, data from Newswhip shows that Patch is a major influencer when it comes to Amazon Prime Day. The outlet has a strong, devoted readership and gets terrific social engagement, especially on Facebook, amplifying visibility for all of the products included in its roundup.
Understanding how writers at Patch and other news outlets identify products, what retail channels they have affiliate relationships with and typically direct readers to, and ultimately who they are writing for is key to landing your product in these stories.
Media will always be interested in editorial reviews of new products that fill gaps in the market, but the volume of commerce stories covering Prime Day last week proves that commerce content will only grow. And if brands want to get involved in these stories, they need to play by the commerce content rules .
If you need help getting started, let's get in touch and talk through your strategy and what might work best.