CES has long been a place for tech companies to showcase their latest and greatest products. The only challenge is how to stand out among thousands of other companies looking for media coverage. 
Each year, exhibitors battle for attention. But if you want to attract the attention of media or new partners or customers, you need a different approach, one that can amplify your efforts far beyond the show floor. 
Here are five examples of how creative companies stand out at the show to help you plan for CES 2024.
1. CREATE A jaw-dropping, share-worthy visual.
Caterpillar's presence at the show took the form of a massive yellow dump truck. It was an unconventional, can't-miss-it approach that turned into what was essentially a media event that drew people into its booth space.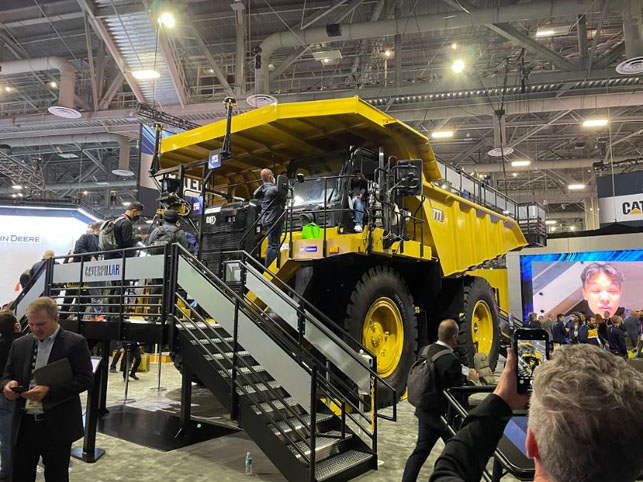 Even if you don't have a giant yellow dump truck, or the big budget of a company like Caterpillar, think about what impressive visuals you can pull off that connect to your product. Having a centerpiece or other unique booth attributes can attract attention and become a "selfie experience" — the kind of visual you can't help but take a photo of yourself with. 
2. Turn passers-by into participants. 
Hypervsn drew people to its booth with incredible holograms, like one of Mark Cuban. It was a visual spectacle much like Caterpillar had, but with one crucial difference: It was interactive.
I generated a hologram of myself that followed my every movement. At the same time, Hypervsn was interviewing each participant and capturing video for future marketing content.
The gaming space too is always smart about creating immersive and interactive experiences, with everything from haptics to VR. One of my colleagues tried on a haptic vest that simulated the feeling of a gunshot. A VR roller coaster had a line of people waiting for a turn. 
If you're planning to demo your technology at CES, think about how you can turn a one-sided demo into an interactive spectacle that attendees line up to try.
3. Create a branded experience off the show floor.  
The show floor is where the action is, and that's where the reporters are. If you're going to draw them off the floor to a suite, it has to be for something worth their time.
Client Enchanted Tools created an immersive storytelling experience that introduced its new character robot, Miroki. Every moment was crafted to engage, from the lighting to the animated story of the Miroki character's origin. It attracted reporters from The Verge and CNET.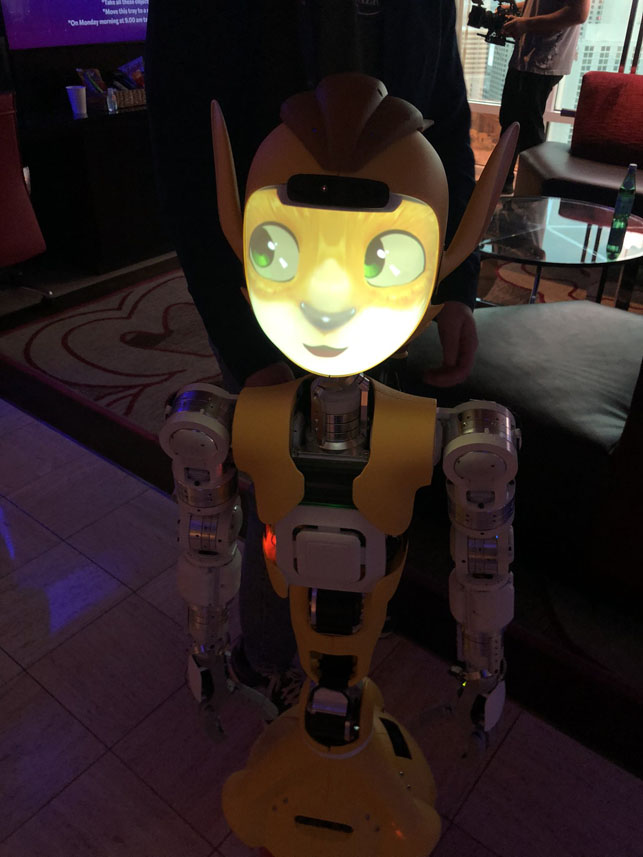 Logistically speaking, the closer your suite is to the show floor, where the media lives during CES, the more opportunities you can create. The Venetian might be the best bet and the Mirage is another good option. 
4. Choose your booth space early and strategically.   
As the show approaches, exhibitors snatch up the prime booth spaces and can sometimes leave you in an undesirable spot. Don't wait until the last minute. I talked to one company that had a booth on the outskirts of one of the indoor exhibit spaces who talked about how quiet the show had been. While more than 115,000 attendees walked the show floor in 2023, not all of them made it to every nook and cranny.
CES organizes its venues based on product categories. In 2023, CES had dedicated areas for Metaverse, digital health, lifestyle, the popular vehicle tech, audio video, and more. While your product might fit into multiple categories, think carefully about what you'd like to most associate with, and understand where those dedicated exhibit areas are going to be.
Once you've narrowed that down, finding a booth at a corner, like client Crosley did, can be another strategy to draw cross traffic through your booth space. 
Choose as early as you can to get the best spot, and try to find a booth in a high-traffic area to maximize the number of people walking by.
But if you can't … 
5. Don't stay anchored to your booth.   
Unitree walked the show floor with its dog-like robot, bringing the demo to the crowd, wherever they happened to be. Up and down the aisles, an entourage followed, phones raised to capture and share video and pictures. The company earned a lot more attention than it would have from just doing a demo in its booth. 
If you have a product that can wander, take it for a spin around the show floor and see who you run into.
Get noticed at CES
Standing out at CES takes creativity and gumption, but these examples show what's possible. By planning ahead, thinking visually, and creating experiences, you can host what is essentially your own media event as attendees take photos and video to share. By finding the right space — on or off the floor — or covering more ground by walking around, you can get in front of more people. 
And if media coverage is one of your big goals, having a PR partner at the show with strong contacts and the ability to corral reporters toward your booth on your behalf can make all the difference. 
Want to know more about how to stand out at CES? I'm happy to answer any questions — get in touch!