Gregory FCA's Supply Chain & Logistics PR team recently descended on the 12th annual Home Delivery World USA conference in Philadelphia. There, leading supply chain and retail logistics companies displayed their innovative solutions and leaders discussed what's next for the sector.
Throughout the conference, we chatted with industry pioneers who are rewriting the rules of delivery, redefining customer expectations, and unlocking new levels of efficiency. From geeking out on the latest advancements in automation to catching up with clients and media friends at industry-leading outlets like DC Velocity, SupplyChainBrain, Global Trade Magazine and Multichannel Merchant, it was definitely an event for the books.
Let's be real: this space is constantly evolving with new emerging technologies that are changing the industry. With the sheer volume of information that was being discussed at the conference, it would be unsurprising if some themes were overlooked. As established PR and marketing pros in this space who work alongside business press and industry media on a daily basis, we have our fingers on the pulse on what makes a good story. With this in mind, we've rounded up the five key emerging trends that caught our attention and will be driving the next phase of industry innovation – and making headlines:
1) Data, data, data:
It's become the rallying cry and the cornerstone of this industry. Almost every session we attended at the conference drove home the importance of data. But it's not just about gathering data – it's about harnessing its power and navigating the challenges that come with it. Everyone seems to agree (especially Home Delivery World's keynote speaker Julian Van Erlach, Senior Vice President Global Supply Chain, FabFitFun!): we're sitting on a goldmine of insights that could revolutionize the way we do business. These streams of information are used for predicting consumer behavior, optimizing inventory, and improving delivery times, forming the backbone of decision-making in supply chain and logistics. Organizations that can effectively do this will gain a competitive edge and position themselves as industry leaders.
As PR practitioners, we've also seen the value data can bring to media strategy as publications are becoming more dependent on proprietary data that supply chain and logistics companies can provide to contextualize news of the day and verify macroeconomic trends.
2) Artificial Intelligence:
AI was of course a major topic of discussion, and for good reason. However, the overall temperament among speakers and attendees was that it's too early to tell how significant the technology's impact on the industry will be. But one recurring theme emerged clearly: individuals and institutions with a deep understanding of the supply chain will remain indispensable. The incorporation of AI, capable of streamlining a variety of routine tasks like processing data sources, can greatly assist in devising strategies for aspects such as pricing.
3) The 'green' revolution:
From optimizing routes to investing in energy-efficient facilities and vehicles, the quest for eco-conscious solutions permeated every corner of the event. Forward-thinking companies are streamlining operations and refining packaging methods to minimize waste generation, while simultaneously promoting recycling and reuse strategies. The push towards sustainability seems to no longer be just about compliance or corporate social responsibility; it's becoming an integral part of strategic planning and operational effectiveness within the supply chain and logistics industry – and the media are watching this topic closely too.
We're seeing an increase in publications dedicating sections to the topic with new reporters specifically focused on sustainability in both industry trades and major news outlets such as The Wall Street Journal.
4) Reverse logistics is becoming the unsung hero:
Let's be real: reverse logistics is still something many organizations are trying to figure out. Traditionally, it was seen as nothing more than a cost center – especially for those in the retail sector. In fact, according to the National Retail Federation's 2022 retail survey, for every $1 billion in sales, the average retailer incurs $165 million in merchandise returns. However, things are looking up!
In fact, on Day 2 of the conference, Brittany Bevacqua, Managing Director of Gregory FCA New York, took the stage with industry leaders to uncover how organizations can leverage returns to achieve sustainable growth – and deliver a superior brand experience. By implementing technology, streamlining processes, optimizing inventory management, and implementing innovative solutions, like Inmar Intelligence, Narvar and Estée Lauder, brands can reduce operational expenses associated with product returns, repairs, or replacements.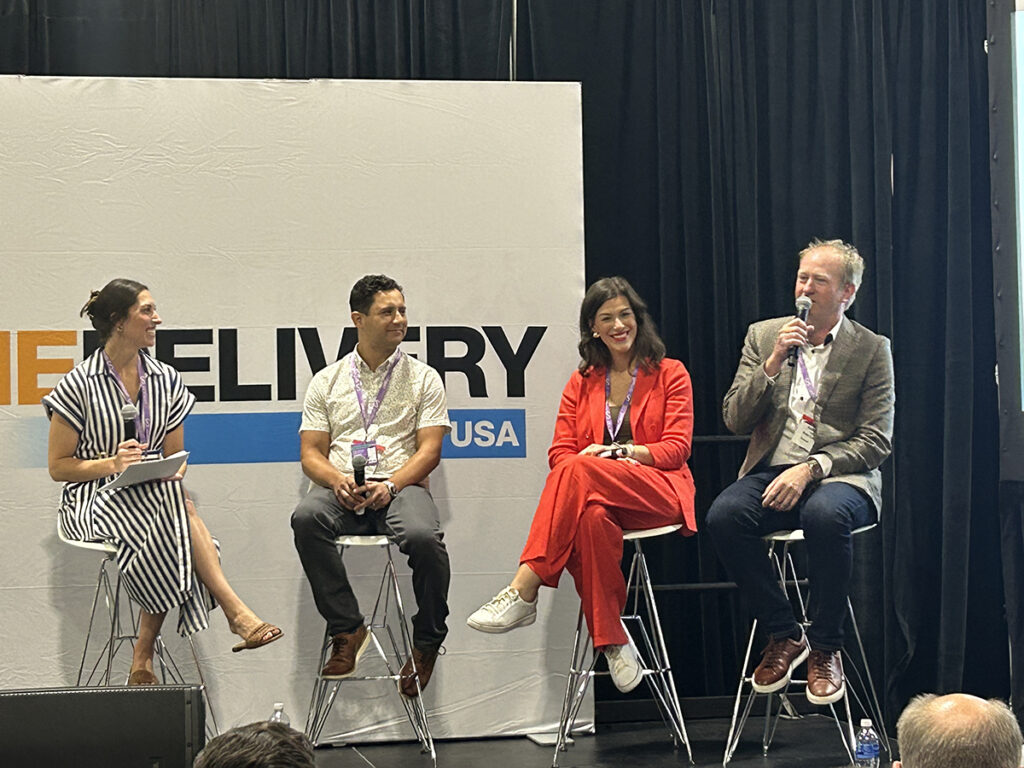 5) Attack of the machines:
The excitement surrounding the transformative potential of drones and autonomous vehicles in last-mile delivery was palpable. And for a good reason: These technologies can significantly improve delivery speed, especially for time-sensitive goods. They can access remote or difficult-to-reach areas, enabling delivery to previously underserved locations. They also have the potential to reduce human error, enhance safety, and decrease overall transportation costs.
While most of the presentations and discussions focused on the benefits in last-mile delivery optimization, many also recognized the need for regulatory frameworks, safety measures, and public acceptance to ensure the responsible and widespread deployment. As these technologies continue to evolve and overcome existing challenges, one thing's for sure: they are likely to become integral components of future logistics operations.
In the end, standing out in the world of supply chain and logistics requires a healthy dose of creativity and determination. You've got to think outside the box and be deliberate and purposeful in your efforts. If your organization has nailed down sustainability like a pro, it's time to shout it from the rooftops! Share those amazing testimonials, showcase your impressive case studies, and make sure you spread the word through all the channels at your disposal. Whether it's social media, emails, or good old-fashioned face-to-face conversations, use every medium possible to let everyone know how you are changing the world.