Creators upload more than 400 hours of video to YouTube every minute.
Blogs swell with more than 2 million posts daily.
More than 550,000 podcasts clamor for listeners' attention.
6,000 tweets flood our timelines every second.
It's no wonder your content can get lost in the mix. But it doesn't have to.
How do you make your content stand out?
Many of the speakers at this year's Content Marketing World touched on ways to do so. Here are 12 of their best tips and strategies to distinguish your content — and your business — especially in a crowded market.
1. Act like a reality TV show editor.
3. Find what makes your story newsworthy.
4. Make something familiar but different.
8. Follow the trifle of differentiation.
9. Stop being an expert, start being a visionary.
10. Figure out what you sound like.
11. Don't try everything at once.
12. Just start.
1) Act like a reality TV show editor.
Andrew Davis called on everyone to stop blaming their audience for having short attention spans. Those are the same people who go home to binge-watch two seasons of Stranger Things, he pointed out. Their attention span isn't a problem when the content is engaging.
Forget what you've heard about goldfish and attention, @DrewDavisHere says. #CMWorld pic.twitter.com/O8puZjMfav

— Fran Merlie (@franmerlie) September 5, 2018
So how can you create more engaging content?
Curiosity gaps: "A void between what we know and what we want to know"

Tension: "The emotional anxiety we feel" in the face of curiosity gaps

Higher stakes: "Show me something the character desires. Now threaten it"
As part of his keynote, Andrew deconstructed a boring case study video and reshuffled its parts using these three story elements. You can watch the before and after videos to see how much more compelling your content could be. 
2) Find the missing stat.
Andy Crestodina sang the praises of original research, which can prompt more shares and links than the average content. You can create original research through observation, aggregation, or surveys. But the key to stand-out research is to find something people in your industry often say but never support — the missing stat. Andy combined data from PayScale and Glassdoor to find the average salary for different marketing roles, then repeated the process the following year and calculated the percent change. His research used freely available data, earned backlinks and shares, and got a ton of media coverage.
"It's a good time to be in marketing." See why with this marketing salary guide from @crestodina and @orbiteers for @AMA_Marketing. https://t.co/0aerXI68IK pic.twitter.com/vJoLyeccBp — AMA Chicago (@ChicagoAMA) May 29, 2018
What's the "missing stat" in your industry?
3) Find what makes your story newsworthy.
Melanie Deziel told it straight: A lot of the stories we want to tell are not newsworthy, she said.
But she offered several ways to figure out how a product, for example, could be made newsworthy:
Is it the first of its kind or the only one?
Does it deserve a superlative: best, most, longest, biggest?
Is there a different or surprising element to the story that would make it stand out?
Was the journey to the story interesting? Sometimes even if the end result is nothing new, the path to getting there is dramatic and interesting.
4) Make something familiar but different.
In his session on creating LinkedIn videos, Allen Gannett said the best video concepts are familiar but different. They build on a successful idea, but twist it in a new and interesting way.
One example — which he's surprised no one has done yet — is an "MTV Cribs" for startup offices.
What successful format or concept could you twist in a new direction for your own channels?
5) Question best practices. 
This was Jay Acunzo's rallying cry. Don't blindly settle for conventional wisdom until you've vetted it for yourself.
Looking up the best time to tweet; the optimal length of a blog post, video, or podcast; or even a list of 12 ways to make your content stand out (ahem), won't necessarily give you the best results for your own audience, your own goals, your own business. Best practices have worked for others, but will they work for you?
"Exceptional work isn't created by the answers others give us, but by the questions we ask ourselves," Acunzo said.
"Exceptional work isn't created by the answers others give us, but by the questions we ask ourselves" —@jayacunzo #CMWorld

— Fran Merlie (@franmerlie) September 5, 2018
6) Spot your tell.
Ann Handley sang the praises of great email newsletters and why they're not just relevant, but some of the best content out there (as long as your intern isn't writing it, she said).
.@annhandley talking email newsletters as backbone of content marketing efforts #CMWorld pic.twitter.com/r0McjdCuOH — Fran Merlie (@franmerlie) September 5, 2018
One aspect of the best email newsletters, Handley said, is a tell: Some aspect that indicates the newsletter could only have come from you. Whether it's the format or the voice, it's something unique to you and your organization.
What's your tell in your content?
7) Focus on niche audiences. 
Greatist's Derek Flanzraich explained his philosophy that chasing scale ultimately costs publishers relevance. The antidote is building an engaged audience in a niche space.
Think about who your audience is and what you want them to do. Now make the who as specific as possible and the what as broad as possible, he said.
Make "who" as specific as possible and "what" as broad as possible #CMWorld pic.twitter.com/8xkZHF43fC

— Fran Merlie (@franmerlie) September 5, 2018
8) Follow the trifle of differentiation.
Andrew and Pete ditched the same-old pyramids and Venn diagrams for a three-layer trifle as a model for how to make your content stand out.
The three steps — ideation, validation, and dependability — take you from fresh ideas to testing those ideas on social media, podcasts, and other short-form content, then repeating the winners again and again.
But the duo's entire session was a living example of differentiation. It was a presentation, but also a game show. A volunteer audience member had to spot keys hidden in the slide deck, and name the picture attached to each key.
Drawing on curiosity gaps and tension (see #1) to hold attention, it culminated in a mid-session scavenger hunt and a confetti cannon celebrating the winner.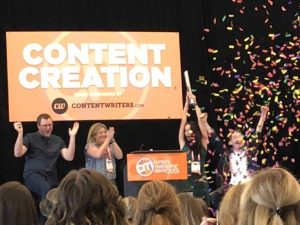 It was fun, memorable, and arguably the best session of the conference, not only for the advice Andrew and Pete offered, but also because they were a living example of that advice, creating a session that truly stood out.
9) Stop being an expert, start being a visionary. 
Caroline Nuttall painted a picture of two types of thought leaders: In one corner, experts discuss generally accepted ideas and offer how-to advice. In the other, visionaries challenge conventional wisdom and offer advice on how to think.
Expertville, as she called it, is crowded — she estimated that about 90 percent of the sessions at Content Marketing World fit the bill. In the land of the visionaries? Just two — much less crowded, which makes it easier to stand out.
The path from expertville to the land of the visionaries begins with becoming an investigator of the fundamental concepts in your field, searching for deeper problems by exploring questions instead of answers (see #5).
Share your imperfect ideas for quick feedback (similar to the second step of the trifle of differentiation above), and then amplify what resonates with your audience.
10) Figure out what you sound like. 
Audio content is often pigeonholed to podcasts. But the rise of smart speakers, the increase in people listening to spoken word content, and the raw power that audio can have over people create new opportunities to stand out with audio content.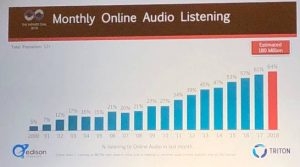 Think about times of the day when audio content could be most helpful or relevant, Tom Webster recommended.
Chompers, an Alexa skill produced by Gimlet Media and sponsored by Crest, is a two-minute podcast designed to entertain kids while they brush their teeth morning and night, ensuring they stick with it for the recommended amount of brushing time.
What parts of the day could you create audio content for?
11) Don't try everything at once. 
In the opening keynote, Joe Pulizzi let everyone in on his three-step formula for success: Record, repeat, remove. That is, write down specific goals, review them morning and night, and eliminate any distractions in your path to achieving them.
It was that last point, about focus, that had particular relevance to content.
Don't start a blog, a podcast, a YouTube channel, and a newsletter all at once. Most companies that do so spread themselves thin and fail to keep up with it all.
Do one thing well, succeed in that one area, then expand, Joe said. Pick a platform relevant to your audience and execute consistently.
12) Just start. 
This was Tina Fey's most important advice to creators from her own work as a writer. Thinking too hard about how to distinguish yourself can paralyze your efforts completely. So get started. Put even one of the 11 ideas above to work.
Tina Fey's other advice: Follow your gut. Her only regrets, she said, are moments when she didn't follow her instincts.
I'd argue that's also good advice for finding and sticking to your brand's unique voice. Figure out what makes you different, and then use that as a guide for every piece of content you create.
It's a crowded content landscape out there, but by creating exceptional work that stands out and engages consistently, you can become essential viewing, reading, and listening for your audience.