CES is back.
After a couple years of virtual and hybrid events, CES 2023 will look much closer to the behemoth tech show of pre-covid times.
It's an incredible opportunity to get in front of reporters and earn the kind of press coverage that launches startups to fame, builds buzz for emerging tech categories, and cements the must-have products for the year.
While we don't know exactly what CES 2023 will bring, we do have a time-tested playbook for CES success. Using the strategies below, we've helped countless clients reach their goals, make the most of the show, and get the attention they deserve from media.
CES 2023 is fast approaching, and there's a lot to get done. Here are 13 ways to prepare for CES.
1) Make the decision.
If your plans are still up in the air, start the process ASAP. Contact CTA to discuss booth options that fit your budget, where companies like yours will exhibit, and what hall is best. 
Most companies already have booths by now, so the sooner you get the go-ahead, the better.
2) FOCUS ON NEW PRODUCTS AND GOOD STORIES.
What technology are you planning to show at CES 2023? The press attends CES for news, and if you have nothing new, playing the media game is all the more difficult. 
Hopefully your pipeline of new products and features will hit in time for CES. Even then, know that for most media, simply announcing a product isn't enough. Your story needs an interesting and/or unique angle. Is it foldable? Is it rollable? "Firsts" are always a good sell. 
When possible, use numbers to tell your story. A device that's 10 times faster or costs half as much is more meaningful than one that's simply "faster" or "less expensive."
3) GIVE REPORTERS A HEADS UP.
Share your show news with reporters ahead of time under an embargo. It's how all the established tech companies work the show. The embargo limits when reporters can write a story, but can gauge interest and might land you some booth appointments. 
Have your PR team contact the media ahead of time with an embargoed press release or other info to get on their radar and increase your chances of a booth visit.
4) SHARE WHAT'S NOT AT CES.
I once heard legendary tech journalist Walt Mossberg ask a client "What's not here at CES?" 
If you have something really special that's too early for the show floor and public debut, bring it along and try to set up a few high-level media meetings under NDA. 
You'll either impress the reporter and have someone who's interested when you announce the new product, or you'll get invaluable feedback to consider before it's unveiled. Either way, you're also developing deeper relationships with media.
5) SIGN UP FOR PRE-SHOW AND MEDIA-ONLY EVENTS.
You'll make the biggest splash if you get on the media's radar before the show even starts. 
The pre-show events are media only and give reporters more time to ask questions and try out your product while learning about your company. It also levels the playing field — everyone from startups to household names gets the same booth space and same opportunity to connect with reporters.
These are the three pre-show events you'll want to attend:

6) THINK LIKE THE MEDIA.
What makes your story worth telling? If you aren't showing anything new, try teaming with similar, noncompeting products to offer the media a trend piece. 
Know what's being covered by major media and figure out where your product fits. Dig into the latest reporting, and the reporters, in your space before the show floor opens.
Already, we're seeing signs that CES is focusing not just on cool gadgets but also technology that's changing the world. Sustainable tech looks to play a big role, as well as tech "to solve humankind's greatest challenges." I asked Lance Ulanoff, Editor in Chief of TechRadar, which trends he's watching at the show: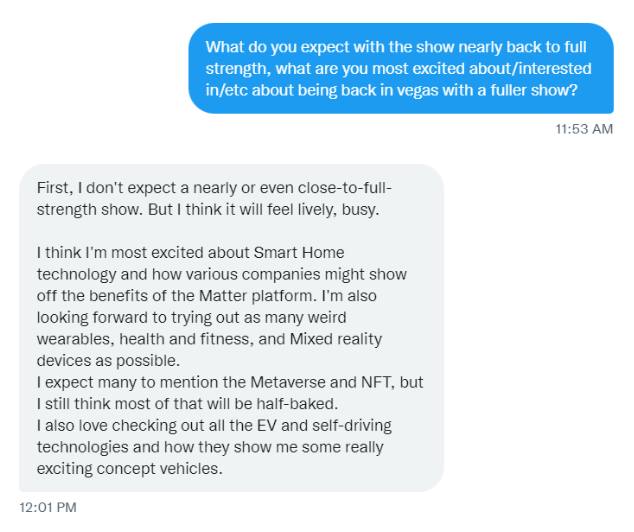 7) CREATE AN EYE-CATCHING DEMO.
In the battle for attention among CES's 1800+ exhibitors, we've seen companies use everything from celebrity appearances to pizza-flipping chefs to good ol' product demos to draw the masses to their booth. 
It's the last one that will make the biggest difference. If you can attract people to your booth with your product alone, you don't need any stunts. Know what makes your product unique and attention-grabbing and prepare a demo that plays to the media's desire for photos and video. 
8. STAY PATIENT.
If you can schedule booth appointments with reporters, that's a great sign of interest. But if your calendar isn't filling up, there's no cause for concern. 
Reporters may or may not set appointments for various reasons. You also shouldn't expect to see a top reporter at your booth on the first couple days of the show. They're tied up with press events from the massive, established companies.  
Your best chances of connecting with top reporters are the pre-show events, where you're on even footing with every other exhibitor, and staying patient until later in the week. Once reporters are done with the big players, they're looking for undiscovered products and companies. They're looking for something exciting. That's when you can get on their radar.
9. ASSEMBLE YOUR TEAM.
You're going to need:   
A team to run your booth and demo your product

A PR team with CES experience and established media connections to connect with and answer any questions from reporters

Employees and product experts who can speak to potential customers and also be able to answer questions from the media who randomly come across your booth. This is likely to happen and we've seen too many stories that mention something about poorly communicated product details and purposes.
Ultimately, who goes depends on what you can afford in lodging, airfare, and meals for each person. 
Once you have this worked out, spend time training your staff. They'll have to deliver answers even if they're not the one qualified to deal with that topic. Nothing's worse than a prospect stepping into a booth and being told, "I'm sorry, there's nobody here who can talk to you. Maybe you can come back another time." 
10. PREPARE YOUR MATERIALS.
Don't bother with a USB stick or brochure. Just make sure all the information a reporter will need to cover your product is available via a single link that you can send during the show or in follow up after. A Google folder with a press release, high-res images, pricing, availability, detailed spec sheet, and more will do the trick! 
If you're planning a giveaway, be smart about it and offer something your target audience values. Too many booths give out candy, which only attracts hungry strangers, or pens, which don't leave much of an impression. Make it memorable.
11. NAIL DOWN LOGISTICS.
How are you getting your product, booth materials, and people to Las Vegas? 
Remember, you can't cart your gear into the exhibit hall on your own — you're limited to what you can carry. It may work better to have the materials shipped to the site so you don't have to worry about delivering them yourself. 
Where are you staying in relation to the convention center and how will you get from point A to point B? Forget the hours-long lines for taxis. Try Lyft or Uber, the shuttle services, or the monorail. 
Pro tip: Walk to the Westgate monorail stop to skip the end-of-day lines at other stops, especially if you're in the North Hall. 
Planning now will save you time, money, and headaches in January.
12. GET HELP.
CES attendance includes a lot of moving parts, and bringing on outside help can put expertise and experience in your corner, especially when time is limited. 
Find a consumer tech PR firm (hint, hint) that can set up interviews with top-tier media and win you the exposure you deserve. CES is a big investment, and if media coverage is one of your goals, a good PR team at the ready raises your chances of success.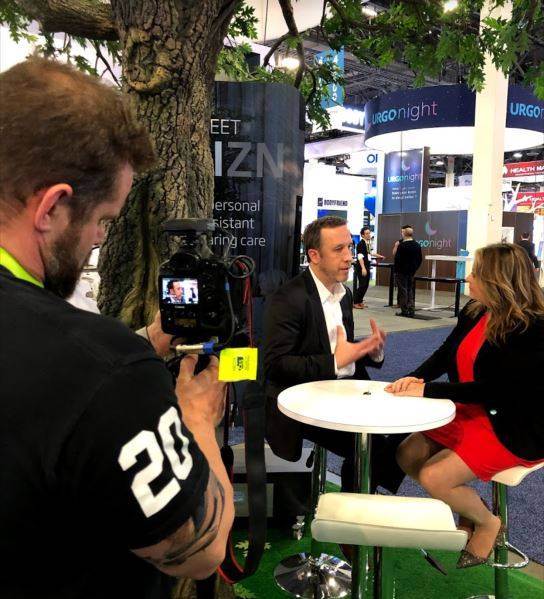 Find a design team to build out your booth concept. The right design can make your company look like an established player and draw in people walking by.
Of course the opposite is also true — if you spend as little as possible, don't be surprised when people pass right by. 
Talk to a design team about the best options for your budget.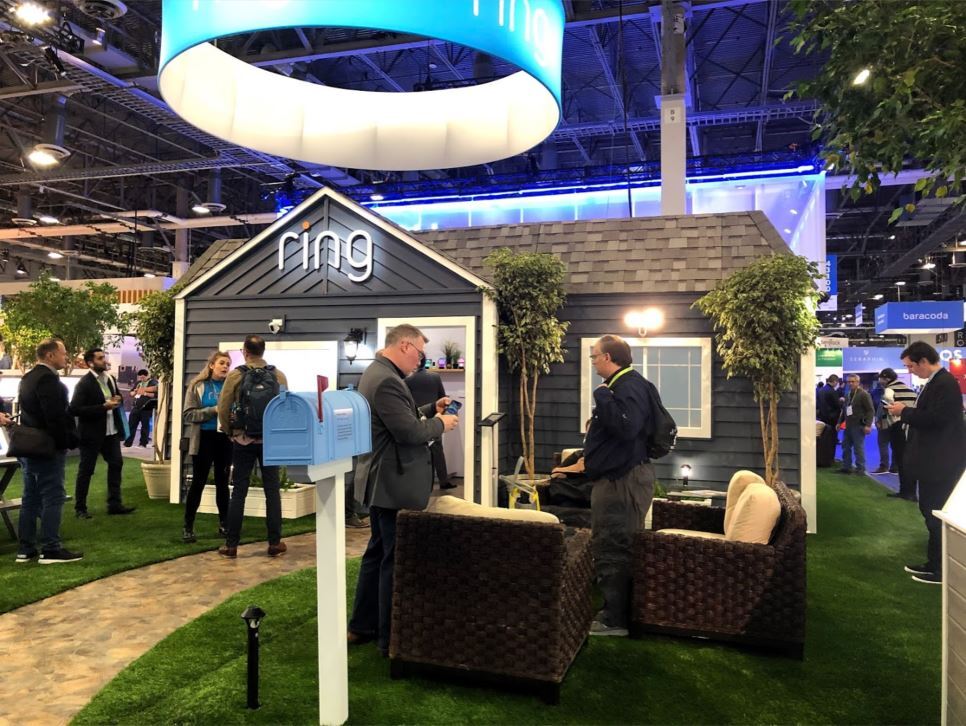 13. DO SOMETHING NO ONE ELSE IS DOING.
Or do it better. 
The biggest stories out of CES are what's different. How will you stand out? 
Here's one idea. If you're a cybersecurity expert, you could offer to walk the floor with a reporter and discuss new devices that could be vulnerable to hackers. The topics of smart home security and autonomous car security are always interesting and in the news, and offer a twist for media on all the new gadget announcements.
There's a lot to get done, and not much time to do it. CES is a major investment of time and money, and you don't want to walk away empty-handed. If media coverage is one of your main CES goals, get in touch and let's talk through your strategy.