With more than 100 million hours of video watched on Facebook every day, wealth managers looking to take their content creation to the next level and get the attention of reporters are wisely expanding their video production capabilities.
As the wealth management industry continues to grow, it has become tougher than ever for advisers to get noticed. Financial Advisers are expected to be one of the faster-growing occupations over the next decade, with a projected growth rate of 30 percent through 2024, according to the Labor Department. At the same time, the shift in the print media industry has forced news publications to adopt the saying echoed in HBO's famous TV show "The Wire:" find ways to do more with less. The total number of newspaper reporting jobs has shrunk by over 20,000 positions since 2007 and magazine jobs are down 35,000 since 2011, according to Journalism.com. The same problem exists in broadcast, where employment of correspondents and broadcast news analysts is projected to decline 9 percent from 2014 to 2024, the BLS reported. Solidifying yourself as an expert source in the media is even tougher when other advisers are reaching out to the same overworked and underpaid reporters.
To gain media attention in today's changing news landscape, wealth managers have to provide reporters and TV producers with more than just their written thoughts on the markets and investing. They have to offer blogs, charts, research and most importantly, video content.
Why is video essential in 2017?
The answer is simple. Today, one third of all online activity is spent watching video, according to Fast Company.  Because people are watching more video than ever, reporters are spending a rapidly-increasing amount of time producing mobile-friendly video content for a social media news feed or website.
In response, financial services brands must meet the reporter where they're already going. Being well-versed in video production as well as possessing ready-to-go footage will make a reporter's life easier and vastly increase your chances of securing coverage.
3 ways financial advisers can stay up to speed with video
1) Build your own studio
The quickest way to produce high-quality, shareable video is to build your own media studio. Many of our clients have already done this to avoid traveling offsite each time they appear on news segments for CNBC or Fox Business. A video studio should have updated high-definition cameras, microphones, a proper backdrop and editing tools. All of these digital capabilities will empower you to communicate instantly with the millions of people who tune in to financial news. Having your own studio will also put you first in line when a news producer comes along on short notice asking for market commentary.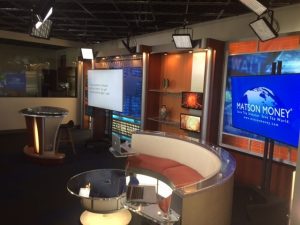 2) Provide to your own circulation
Creating video clips tailored to your target audience and posting them to your social media pages and websites is a powerful way to drive engagement. Today, 92 percent of mobile video consumers share videos, according to HubSpot. In addition, including video on the homepage of your website can increase conversion rates by 80 percent.
Our client Joe Duran, CEO of United Capital, does this well by sharing the story of his financial life management firm via a short video. The video isn't just a great introduction for clients, but it can also help explain his firm's mission to reporters.
Duran and his marketing team have also produced videos on trending financial topics, which have resulted in media coverage. Last summer, he created a video detailing the most common money mistakes made by consumers. The video was posted on Time's Money.com and resulted in a full byline article.
3) Brand journalism has become brand broadcasting
Interactive technology has pushed the media landscape into what many are calling the "Participation Age," where people want to engage with brands and each other. This is best exemplified on Facebook Live or Periscope, where social media users from all over the world can comment on live video productions in real time.
Financial advisers can use live stream videos to create their own TV-like broadcast and effectively share their thoughts on investing to the world while receiving instant feedback. One of our clients who does this well is Mark Matson, CEO of Matson Money. Mark live streams a monthly show on investing called "Matson Money Live" on LiveStream.com. The video is shot directly with his own cameras in his own studio. While sharing his weekly insights, he is also able to communicate with clients who can submit their comments or questions. Mark and his team also share the weekly video segment with the media and many of the videos end up resulting in story ideas for reporters.
PLAY VIDEO
The increased consumption of video isn't going to slow down anytime soon. The tools needed to create shareable, compelling video are out there, it merely requires a bit of practice and dedication to learning the subtleties of the production process. But once created, these videos can earn extra media mileage across your social channels, in the hands of a journalist or on your company website.