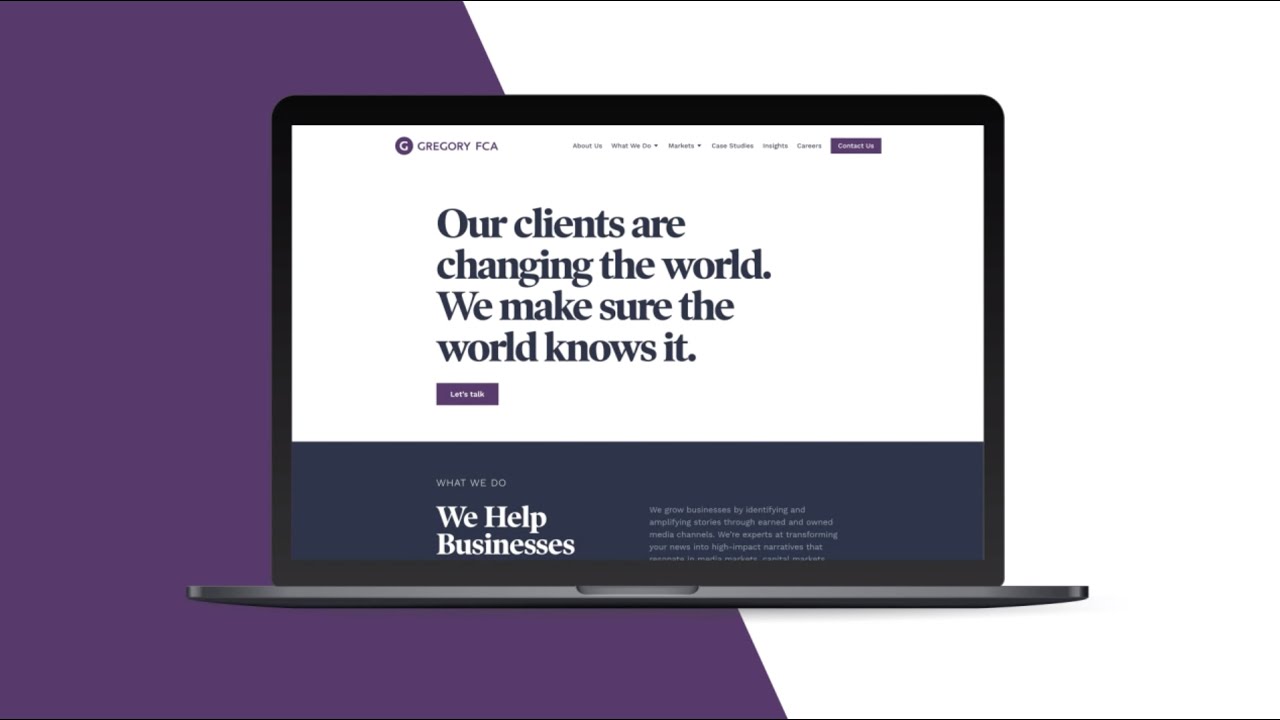 PLAY VIDEO
A new decade deserves a new look.
In honor of our 30th anniversary, we're launching a brand new GregoryFCA.com. This redesign marks the beginning of a new chapter for our firm, as well as a major expansion of our service offerings.
Since 1990, we've earned a reputation for being one of the best public relations firms in the country, delivering best-in-class media relations and content creation support to our clients. But throughout the last three decades, we've expanded not only our team, but our areas of expertise.
Thanks to last year's investment from Copley Equity Partners and our recent acquisition of KM Digital Relations, we're now better equipped to offer holistic communications services to our partners. The updates to our website reflect these growing practice areas, including:
Another major focus of our website redesign was to better highlight the different verticals we serve. While the FCA in Gregory FCA stands for Financial Communications Associates, we work with a diverse array of clients, ranging from healthcare and real estate to esports and cybersecurity. As one of the largest 50 public relations firms in the country, our client roster represents almost every sector of the economy, from B2B organizations to consumer-focused companies, and multinational corporations to locally-owned businesses. This level of diversification has given us the experience and perspective required to meet each clients' unique needs. 
The changes don't stop there. We've also brought together both of our blogs, combining our financial services and technology sites into one easy-to-access page. In this new Insights section, readers can quickly search and filter by vertical, service, or topic. Another exciting update is our new Case Studies page, which offers a deep dive on more than 25 different projects and campaigns we've produced for our clients. 
Designing a new website from scratch is a lengthy – but extremely worthwhile – process. When we embarked on this journey towards the end of 2019, we knew we wanted to not only optimize navigation and user experience, but also better illustrate the stories and successes of our clients. 
We hope that you enjoy the new and improved GregoryFCA.com!