I originally wrote this post about Steve Jobs three years ago. Times were different then. Restaurants were packed. Malls were teeming with crowds. And graduates … well, they were graduating — on a stage, with their friends and in front of their families. Hugs were given. Hands were shaken. And their world was full of promise.
Now we're dealing with a new reality. Not only are graduates faced with uncertainty, but so are our clients. This situation is only intensifying as social unrest continues to sweep through our nation. 
But the promise — well, that doesn't need to be lost. Even in these trying times, there are opportunities to be had and PR is one of the most powerful tools at your disposal. 
The tips shared from Steve Jobs below are still relevant, and now more important than ever — for graduates and clients alike. Take a look and start putting his advice into motion. 
Now is the time to double-down and show your clients and prospects you're still open for business — even if you're doing it in a different capacity online and, of course, minus the handshakes.
Original post published June 7, 2017:
In 2005, Steve Jobs delivered his iconic commencement speech to the graduating class of Stanford University. Twelve years later, his words are still as true as ever, and his legacy is one for the story books.
His advice doesn't only apply to graduates, though. It applies in the PR world, too.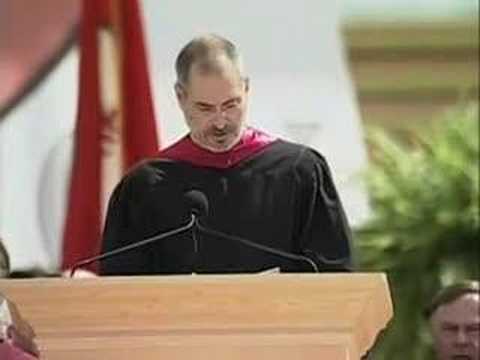 PLAY VIDEO
No matter your trade in the financial services space – RIA, ETF sponsor, banker, etc. – you can likely learn something from Mr. Jobs. Here are a few of our favorite quotes, and how you can use them every day in pursuit of PR perfection.
1) "Sometimes life hits you in the head with a brick. Don't lose faith."
Still waiting to land on the front page of Inc.? Trip up on a live segment on CNBC? Get quoted for something you told a reporter was off the record? Don't sweat it. Unless you invented the new iPhone or became a billionaire at age 30, it's going to take some time to get to where you want to be, but you need to keep looking ahead.
PR leads to more PR. Once you establish yourself as a thought leader in your industry, your perspective becomes more and more desirable in the eyes of reporters and news producers. The more the media wants to hear from you, the more PR you're going to get. Success in PR can be equated to a drip, not a splash.
2) "You've got to find what you love."
Who is the spokesperson for your firm? Does his or her passion bleed through the TV set when talking about your core product or service offering? If not, it's time to go back to the drawing board. Yes, this still applies even if your spokesperson is your CEO.
There's no denying that broadcast producers lean toward the C-suite to build their line-up. But do you know what they love even more than a fancy title? Personality and energy! Make sure you are assigning the right person to the job.
The key is finding someone who is passionate. Passion and perception go hand in hand.
3) "Don't settle"
Is political news clogging up all of the precious PR real estate? Don't settle. The news cycle has room for everyone. You've just got to be creative and newshack your way into the story of the day.
For example, when Prince died last spring, nobody initially saw it as a story for financial advisors. But smart financial marketers wiggled their way into the news cycle by discussing the estate planning implications of his untimely death. Ideas are the engine of PR.
Think outside of the proverbial box. Don't pigeonhole yourself into only talking about your products. Expand your horizon so that your narrative fits into the news. Profile pieces and solo TV interviews will come around, but you've got to be flexible first.
PR is certainly a process. It's easy to get discouraged at times but don't forget Mr. Jobs' most important advice of all: "Stay Hungry. Stay Foolish."