The biggest story of the year is covid-19, obviously. And while interest has waned from its peak in March, searches started to tick back up in early June: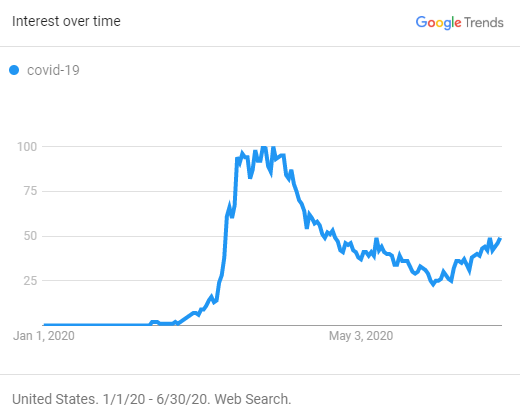 But beyond the pandemic, there have been a number of major cybersecurity stories this year that offer a glimpse into what's required to earn top-tier media coverage.
The list includes individual articles that either broke a story or became the most widely shared and cited version of the story, as well as how many other stories were written about that news.
Here are nine of the biggest cybersecurity stories of 2020 so far:
June 2020
446,307 shares
4M UVPM
42 total articles on TikTok spying concerns (expect many more in the second half of the year — they're already trending)
June 2020
236,808 shares
4M UVPM
167 articles on the news
April 2020
78,943 shares
5M UVPM
328 total articles on the news
June 2020
57,698 shares
3M UVPM
136 articles on the news
January 2020
42,835 shares
105M UVPM
677 articles on the news
May 2020
24,895 shares
2M UVPM
15 total articles on the news
March 2020
14,656 shares
8M UVPM
35 total articles on the news
January 2020
12,201 shares
3M UVPM
147 total articles on the news
June 2020
2,718 shares
2M UVPM
198 total articles on the news
Takeaway: If you want top-tier national and business media coverage, it helps if your story includes:
A threat to a widely used consumer app. No surprise here. Major media want national stories that affect large groups of people. TikTok and Zoom are two of the latest examples.
A big name. When the President and one of the richest people on the planet get hacked, it can drive stories for days or weeks.
Current trends and national events. Security stories around remote work and Black Lives Matter protests add a new angle to a story national media have already been telling.
For more on what it takes to earn national media coverage, read our Q&A with Jeff Elder of Business Insider to see what he looks for in a story.
And if you're having trouble leveling up your story for national media, we can help. Send me a note and let's talk through your strategy.